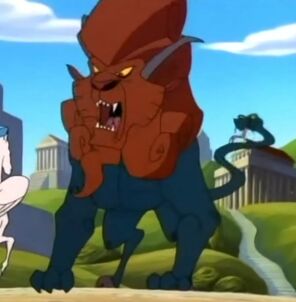 The Chimera is a minor antagonist in the Kingdom Hearts Unlimited Saga, usually appearing in the Mt. Olympus campaigns as a giant boss for the Coliseum tournaments.
It is one of the many monstrous children of Echidna and Typhon, taking on the role filled by one of the Behemoth Darkhearts for the Hades Cup.
Story
Ancient History
In the ancient era of the Keyblade War, the demon queen Echidna mated with the Titan Lord of Infernal Flame, Typhon, to sire a massive brood of monstrous beasts that, when fully grown, would eventualy become successors to the Ancient Ones. One of these children of Echidna was the hybrid gestalt beast, the Chimera.
It was eventually locked away in a private cell in Tartarus by Zeus to prevent it and its siblings from ever escaping to threaten the lives of the mortals above.
Appearance
The Chimera has a lion's body, front legs, mane, and head (which slightly resembles its father Typhon's), a goat's hind legs and horns, and a ten-foot-long diamondback snake-headed tail which grows out of its shaggy behind. It can also sprout large bat-like wings out of its back in order to chase after airborne prey.
Abilities
Community content is available under
CC-BY-SA
unless otherwise noted.