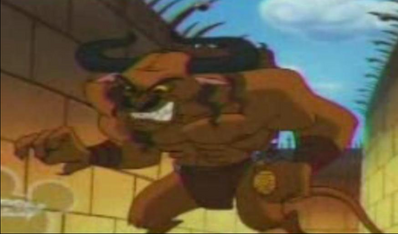 In 
Greek mythology
, the 
Minotaur
, was a creature with the head of a 
bull
 on the body of a man
 or, as described by Roman poet 
Ovid
, "part man and part bull".
He dwelt at the center of the 
Cretan
Labyrinth
, which was an elaborate 
maze
-like construction
 designed by the architect 
Daedalus
 and his son 
Icarus
, on the command of 
King Minos
 of 
Crete
. The Minotaur was eventually killed by the Athenian hero 
Theseus
.
In the Kingdom Hearts Unlimited Fanfiction Saga, the Minotaur is actually a descendant of Queen Echidna, with her being the mother of the Cretan Bull and hypnotizing Pasiphae into merging with the beast in order to create a possible future Titan of Earth. The Minotaur currently serves Lord Hades as a member of his Underworld Army.
Story
Appearance
Personality
Abilities
Community content is available under
CC-BY-SA
unless otherwise noted.