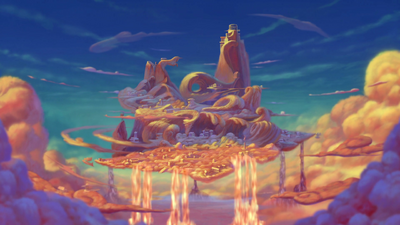 Mount Olympus
 is a major location in the film 
Hercules
. It is here where the Olympian Gods reside and discuss important matters of mortal affairs, or just sit around drinking ambrosia all day.
In the Kingdom Hearts Unlimited Saga, Mount Olympus is a world visited for most of the stories as it is one of the more important worlds in the storyline. Its keyhole, hidden in the throne room underneath a large stone block by Hestia's fireplace, is one of the shining jewels in the Silver Imperium Crystal Chalice, and so is desired by Hades above all other items on the mountain.
Settings and Areas
Story
The Keyblade Wars - X
Birth of A New Era
The Journey
A Year of Misery
An Empire of Dreams
Return of the Keyblade
Characters
Characters Design
Enemies
The enemy mooks of Mt. Olympus primarily consist of Greek-mythological monsters and undead gladiators, all of whom work for Hades in his underworld army and can be fought either during the battle for Mt. Olympus or as challengers in the Coliseum games.
Community content is available under
CC-BY-SA
unless otherwise noted.